If you're new here, you may want to subscribe to our RSS feed. Thanks for visiting!
The Launch Giveaway is finally winding to a close.  I have to admit that as much fun as it was to give away all of these prizes, I will be happy to get back to the real reason we started this site: writing reviews.  Telling all of you my thoughts about the various products out there for Windows Mobile is really why I wanted to start this site with Tariq.
That being said, we do still have a host of unclaimed prizes here in the My Today Screen Lost and Found.  So without further adieu, I will read the winners.  If you see your name, please stand and await further instructions.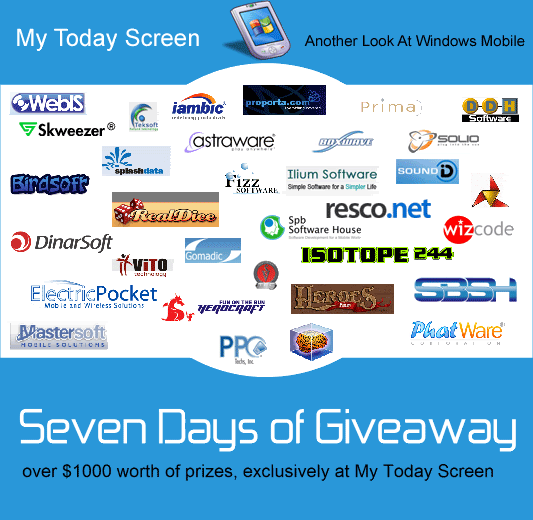 iWindows Mobile Audio Notes Plus Any Vito Program                Steve
Any Game From Isotope 244                                                       1. David Gray
2. MovieGene
Mastersoft Prize Pack                                                                  Peter
Any Game from Smartbox Design                                               Uzziah0
Palm Heroes                                                                                 1. Viking
2. Niky
Birdsoft Extreme Agenda                                                              Barnowl
Dinarsoft Memmaid                                                                       Tim
iWindows Mobile FunContact Plus Any Program from Vito         Brian Kraft
Any Program From Phatware                                                       Breley
Skweezer T-Shirt                                                                           Ray
Teksoft Prize Pack                                                                          Perry
Wizcode Prize Pack                                                                        Melvyn
Real Dice/Mytopia 1 Year Subscription                                           Paschott
Well, I am exhausted now.  I think I may need to lie down.  Winners, expect an email from me in the next day or two with further instructions to claim your prizes.  If you do not win any prizes in our Seven Days of Giveaways…well, you must not have been trying very hard.  Seriously, don't fret because we will have more giveaways coming up soon.  Here's a hint.  Did you see my post about the new Facebook Page.  A big final THANK YOU to all of our fantastic sponsors.  We could not have done this without their generous donations.
Related posts
birdsoft, contest, dinarsoft, isotope 244, iwindows mobile, launch giveaway, Mastersoft, Palm Heroes, phatware, skweezer, SmartBox Design, teksoft, Vito, wizcode
If you enjoyed this post, please consider to leave a comment or subscribe to the feed and get future articles delivered to your feed reader.
14 Comments »